Meaning
What does Phrog mean?
Phrog is an online alternative version for "frog".
It became a meme when somebody uploaded a video about a frog sitting on a bench as if it was a human.
Eventually phrog became the go-to expression to call frogs that are found "sitting" in a similar manner.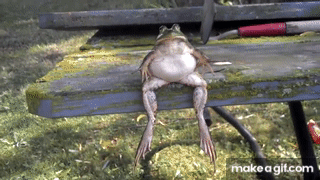 Origin
What's the origin of Phrog?
The meme started as a YouTube video, uploaded by user Mike Hanna, who captured a green toad sitting in an upright position on a garden bench.
The video received the title "Frog relaxing (Phrog), and gained over 1.6 million views since the upload in 2012.
Spread & Usage
How did Phrog spread?
Since people of the internet love to feature frogs in memes, phrog grew popular fairly quickly in 2019 on Instagram.
One of the earliest and most memorable video-edits of the original video was combined with Playboi Carti"s Kid Cudi song and deep-fried aesthetics.
The meme also became popular on Reddit in the r/okbuddyretard board.